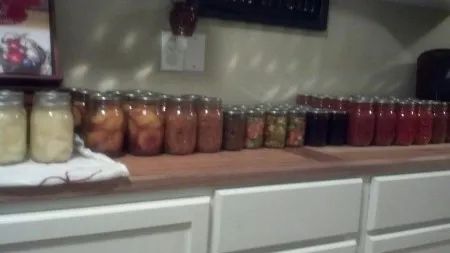 A Novice's Guide to Canning
Today feels like fall!  As much as I love summer, I have to admit that the beginning of fall is my absolutely favorite time of year.  The only negative thing about that first chilly night?  I know the end of fresh fruit and vegetables is on its way.  I love garden produce and although I could never live somewhere without four seasons, the fruit would sure be nice!  But, I live in Montana, so the obvious solution is canning.  Let me tell you though, I was seriously intimidated by the whole process.  In my head, I thought of all the equipment, all the rules, all the work, and I figured I didn't want anything to do with it.  This season I finally gave it a try.  I was so wrong!  Yes, there is equipment, there are rules, and it is work.  But it is absolutely, without a doubt, worth it!
These are my tips and tricks for any other canning newbies out there.  Hope they convince some of you to try it out!  You won't regret it, especially once you see your pantry fill up and your preservative intake go down!
First, find someone who knows how to can and is willing to teach you.  One hands on lesson is all it took, but I felt more confident of my abilities and way less scared of the process after watching it once.  My teacher was someone I had the good fortune to meet through Bountiful Baskets (see, another great reason to volunteer, you meet fabulous people!)  She was kind enough to show me the process as she did some water canning and after getting over my serious case of kitchen envy, I learned so much! When I did take on my first solo canning project (marinara, yum!) I was much better prepared than I would have been without the hands on experience.
Second, make sure you buy the necessary equipment.  If you are water bath canning, you need the water bath canner, a utensil set, canning jars and lids, and I highly recommend the Ball book.  Before you do anything else, read that book!  It has highly necessary information about the rules of canning, the reasons for them, information on how to adjust for altitude, and some fabulous recipes.  I haven't tackled pressure canning yet, but I've got "pressure canner" on the top of my own Christmas wish list!
Third, and this is an important one, ALWAYS follow an FDA approved recipe.  This is probably the only time you'll ever hear me say that I followed a recipe, because usually I change them a little every time I use them.   Not in canning.  The FDA approved recipes have been tested and approved because they have the correct levels of acidity to keep out the bacteria.  This post is recipe-less on purpose, because one of the most crucial steps in canning is making sure you use and follow an approved recipe.
Next, find some resources.  I highly recommend SB Canning, (www.sbcanning.com) a website and Facebook page with invaluable information on canning in general, and tons of great approved recipes.  Also, see if your teacher from Step 1 will let you put them on speed dial!  You will have questions and the resources you find now will save you when you encounter that question in the middle of a batch of marmalade.
And, finally, decide what your canning goal is and make things that fit in with it.  Are you filling your pantry with homemade staples?  Are you making holiday gifts for friends and family?  I've been working primarily on preparation for holiday gift-giving, although I, ahem, will probably keep plenty for myself too.
Then, preserve to your heart's content.  After overcoming my fear of canning, I'm now afraid I might be just a little bit addicted to it.  In the few weeks since I had my first lesson, I now have a pantry containing marinara, tomato sauce, tomatoes in their own juice, chokecherry syrup, jardiniere, rosemary onion confit, peach bbq sauce, honey spiced peaches, pears in light syrup, pear preserves, pear syrup, and pear butter.   I  hope everyone on my holiday gift list is ready for lots of homemade, preservative-free, yumminess!  Good luck, and welcome to your new addiction!