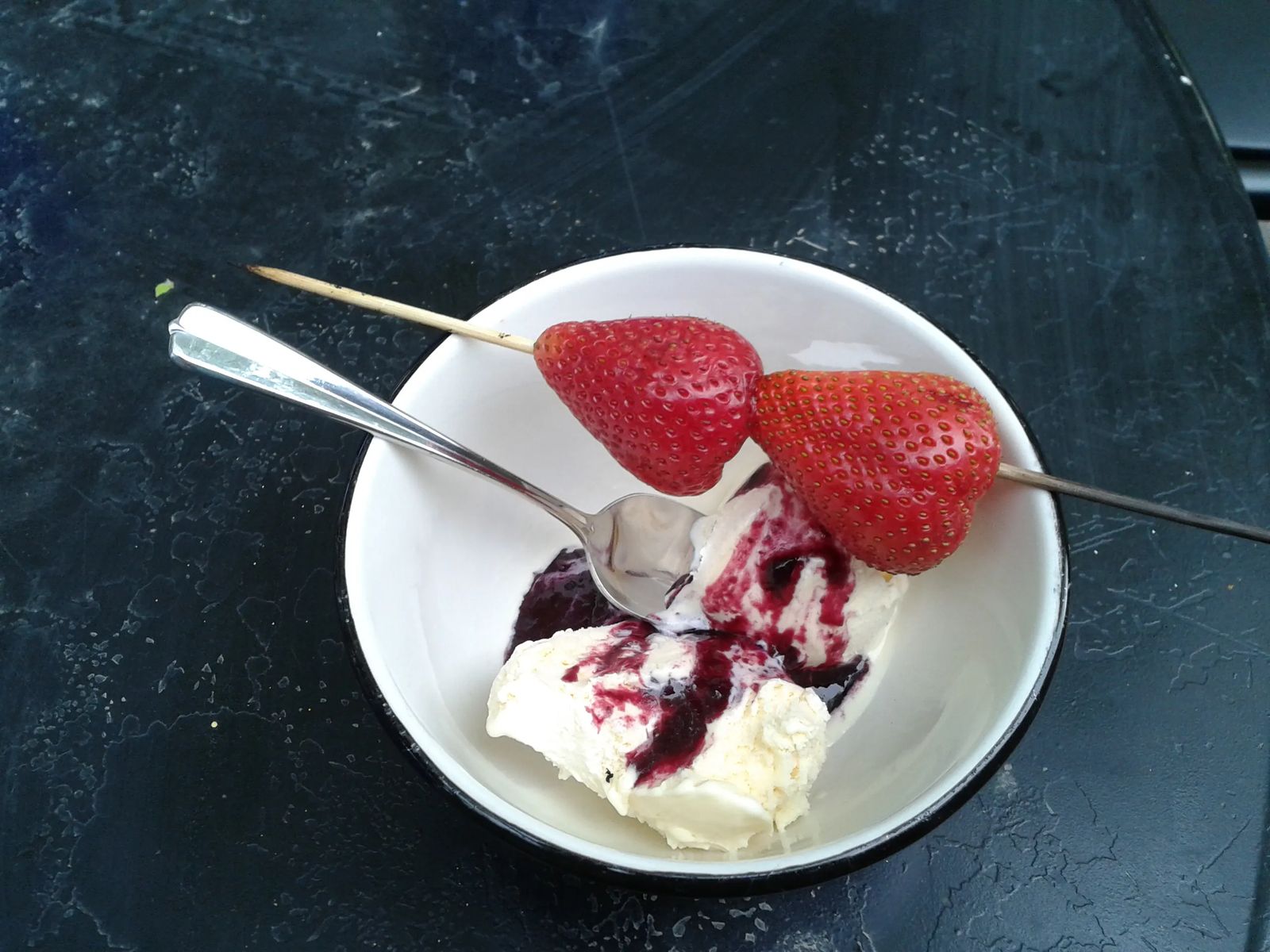 Grilling for the 4th? Don't forget dessert!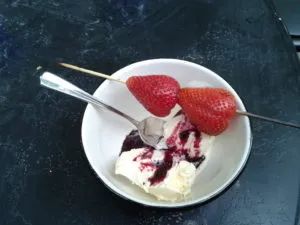 We grill ALL THE TIME in the summer.  It's part of summer; like baseball, lemonade, and running through the sprinkler.  (Usually it's only the kids in the sprinkler, but no guarantees.)  I love to experiment past the basic burgers and brats, and I've come up with some pretty great grilling recipes. One of my all-time favorites is actually a dessert.  Yep, a dessert, on the grill.  You really only grill a small part of it, but it's mouth-wateringly good.  And since it's red, white, and blue, it's perfect for your 4th of July gatherings.
Red, White & Blueberry Sundaes
Strawberries, washed and hulled (2 per serving)
1 ½ cups blueberries
2 basil leaves
1 TB water
2 TB powdered sugar
Vanilla ice cream, store-bought or even better, homemade
2 TB melted butter
2 TB granulated sugar
Prepare skewers for grilling.  If you're using wood skewers, make sure to soak them in water for 30 minutes prior to grilling.  Don't forget this step, or you'll have fireworks you weren't expecting!
On the stovetop, cook blueberries, powdered sugar, water and basil leaves over medium heat until boiling.  Reduce to low heat, continue to cook until sauce is reduced.  Remove basil leaves before serving.  You can leave the berries whole in the sauce, or use a hand blender to zip it into a liquid.
Place two strawberries on each skewer.  Roll in melted butter, then granulated sugar.  Grill about 3 minutes on each side (they'll have a nice brulee effect.).
Place ice cream scoops in bowls, pour sauce over the ice cream, and place a strawberry skewer on top.  This fun dessert is beautiful, patriotic, and looks a lot harder than it is.
Happy grilling (and 4th of July) from my house to yours!