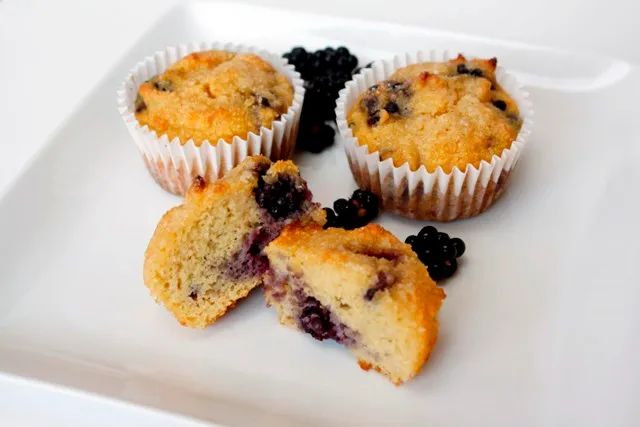 Mmmmm...muffins! - Better than Blueberry Blackberry Muffins Recipe
If you read my blog at all, you know I am enamored of  Bountiful Baskets.  It's such an incredible program; I get fabulous produce for a great price, and by volunteering, I'm helping
myself, my community, and having a great time.
Lately, getting a basket has been a bit like running a sprint.  The contribution time opens at 10:00 am on Monday, and by 10:10, every basket in Billings is gone.  I'm SO excited to let you all know that we will be getting new sites (which means more baskets) in Billings very soon.  I'm currently training as the Volunteer Site Coordinator for a site at ZooMontana, and several other volunteers are training to open new sites.  Please come volunteer if you can!  Bountiful Baskets wouldn't exist without the amazing people who help every single week.
Every week, the contents of the baskets are a little different.  In my last basket, we got blackberries.  I LOVE blackberries, and in January when we had some, I made up this muffin recipe.  My intention when I started was just to substitute the blackberries for the blueberries in my blueberry muffin recipe, but I swerved a little off track.  The result is better than any blueberry muffin I've ever tasted.
Better than Blueberry Blackberry Muffins
2 c flour
2 tsp baking powder
1/4 tsp salt
1/4 cup butter, room temp
3 oz cream cheese, room temp
3/4 c sugar
1 tsp almond extract (use vanilla if you don't have almond)
1 egg
3/4 c milk
2 TB blackberry jam
1 cup fresh blackberries, sliced
In a medium bowl, combine flour, baking powder and salt.  In a separate large bowl, mix butter and cream cheese with a mixer.  Add sugar, mix until fluffy. Add egg and almond extract, mix well.  Add half of flour, mix, add milk, mix, add remaining flour, mix, add jam and mix again.  Fold in fresh blackberries.  Batter will be thick.  Line muffin pan with cupcake papers.  Divide batter evenly and fill muffin cups. Bake at 375 degrees for 18-21 minutes or until a toothpick inserted in the center of a muffin comes out clean.  This recipe makes 12 muffins. Serve warm with butter. Because seriously, why eat a muffin if you're not going to butter it?
Helpful tip:  Fill the muffin cups higher than you would  a cupcake and it makes a more impressive muffin top, which is lovely on muffins and not so fabulous on new moms.