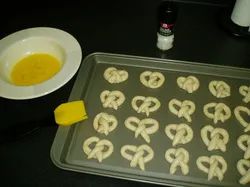 Praying Arm Pretzels a Perfect Lenten Treat
Ash Wednesday is behind us and we're already two weeks into Lent – while we're all very aware of the things we've given up for Lent, there's something else you can do to help your kiddos get their minds into this Easter season. I'm talking about Praying Arm Pretzels. Each year we make these pretzels with our Sunday school kids the first Sunday in Lent. It's a fun (and tasty) way to get the kids thinking about adding prayer to their Lenten experience.
But the making of these pretzels need not be confined to the Lenten season, oh no, this is a great activity to do as a family any time. It's always a fan favorite with our kiddos.
Let's move on to the yummy details so you can get your mini chefs into the kitchen!
Ingredients:
* 1-3 loaves of frozen bread dough
* Egg yolk, beaten with 1 tablespoon water
* Coarse salt
Directions:
1. Thaw your loaves of bread and let rise according to package instructions.
2. Cut your loaf (loaves) in half and place on a floured board/counter.
3. Cut each half into about eight strips each.
4. Between your hands roll each strip into about an 18-inch rope.
5. Shape into pretzels and place them on a greased cookie sheet.
6. Brush the tops of the pretzels with the beaten yolk/tablespoon of water mixture.
7. Sprinkle with coarse salt.
8. Bake at 350 degrees for 20-30 minutes.
If you'd like the prayer that we do with our Sunday school kids following our pretzel-making extravaganza, you can find it at Kid Talk: LUMC Sunday School Connection.
This is such a fun and easy recipe to create with your kids, especially since even the littlest toddler hands can get in on the action. Enjoy your food and your family!
Keep up with Simply Becca on Facebook: Parenting, Kid Talk, and TV Moms or on Twitter @LovingAbigail.
Rebecca is a freelance writer and stay-at-home mom to a beautifully dramatic 5-year-old girl.