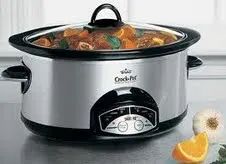 I Feel Like Chicken Tonight, Chicken Tomorrow Night, and the Next Night Too…
I'd like to introduce you to my slow cooker.  It's pretty much a part of my family.   
My daily life is crazy right now.  We have our house on the market and searching listings every day is the most nerve-racking thing I've ever done.  And that includes subbing in a kindergarten class, finger painting with a toddler, and, oh yeah, having a husband.
One good thing about being super-busy is that I tend to create new, easy Crock-Pot recipes.   This particular one started out as one evening's dinner, but I made too much and got two more excellent meals out of it.
Day 1 – Crock-Pot Cilantro Lime Chicken
8 boneless skinless chicken breast halves
1 jar (24 oz) mild or medium salsa
1 pkg taco seasoning
juice of 1 lime, or equivalent bottled lime juice
1/4 c fresh cilantro, chopped
Hot cooked rice
Place chicken breasts in slow cooker.  Mix together all remaining ingredients and pour over chicken.  Cook on low at least 6 hours. Serve over rice.  (Seriously, don't you love 4-step recipes?)
I had about 4 chicken breast halves left, so I shredded the remaining chicken and made these enchiladas for the second night's meal.
Day 2 – Cilantro Lime Chicken Enchiladas
leftover shredded chicken ( I used about half of the remaining chicken)
10 flour tortillas
1 can enchilada sauce
1 can green chiles (do not drain!)
2 cups pepper jack cheese, divided
1 cup Fritos, crushed
Place a large spoonful of chicken in the center of each tortilla. Using 1 cup of your cheese, sprinkle some on top of chicken before rolling.  Roll up each enchilada and place seam side down in a greased casserole dish.  Mix green chiles into enchilada sauce and pour over the stuffed tortillas.  Cover and bake at 350 degrees for  25minutes.  Sprinkle remaining cheese and crushed Fritos on top, bake uncovered for an additional 5 minutes.  Yes, Fritos.  I promise, it's delicious.
I still had half of the leftover chicken.  For the third night, I created a White Chicken Chili.  It ended up being my favorite of these recipes.
Day 3 – White Chicken Chili
2 TB butter or margarine
1 onion, chopped
1/4 tsp minced garlic
2 TB flour
2 tsp chili powder
1/2 tsp cumin
1/8 tsp each salt and pepper
2 cups chicken broth or stock
1 1/2 cup milk
leftover shredded Cilantro Lime Chicken
1 can green chiles (do not drain!)
1 TB Tabasco sauce
1 cup frozen corn
1 can cannellini beans
1/2 cup rice, prepared according to directions
Melt butter in large stockpot.  Add onion and garlic, cook until softened (about 5 minutes).  Add flour, chili powder, cumin, salt and pepper, mix thoroughly.  Slowly add chicken stock and milk.  Bring to almost boiling over medium heat.  Reduce heat and add chicken, green chiles, and Tabasco.  Simmer for at least 20 minutes. Add corn and beans.  Cover and simmer 10 more minutes.  Add cooked rice.
My husband said this was even better re-heated the next day, but I can't testify to that since of course, he didn't leave any for me.
Whether it's house-hunting, kids' activities, or just a busy daily schedule, we all have times when we're begging for an easy dinner.  These recipes not only make your day easier, but your whole week!  Enjoy, and let me know what you think!