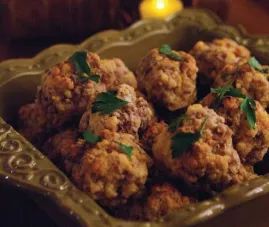 Sausage Balls
...by popular demand!  Our Holiday Staff Recipes from the December edition of SFM!
From Laurie's Table
Sausage Balls
12 oz. packaged sausage
10 oz. cheddar cheese, grated (2 cups)
2 cups Bisquick
Mix all ingredients together with hands and form into 1"
balls. May have to add some milk. Bake at 350 F for 20
minutes, turning once.