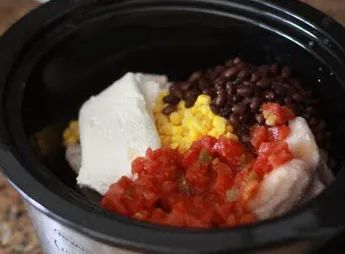 Five Minute Crockpot Dinner
I made this last night and it was wonderful...and it couldn't be any simpler.
Place a 2.5/3 pound bag of frozen chicken tenderloins into the crockpot
Add an 8 oz brick of cream cheese (don't use fat-free or it will become too watery)
Add a can of black beans (drained)
Add a can of corn (drained)
Add a can of rotel
Let it cook for 6-8 hours on low.  Shred the chicken or leave it as is.  I served mine with warm tortillas but this would also be wonderful with spanish rice.
If you want a lower fat-version, omit the cream cheese and add additional beans and corn.  If you like a more "chicken-chili" flavor, add some chili powder and cumin or a chili seasoning packet.
"Wa-la" - dinner is served!
Pinterest